The SCCISP Certification is an IoT Security Institute educational initiative to provide certification courses that offer academic acknowledgement, and industry-recognized credentialed career pathways for individuals working within or looking to develop a cyber career, within the Smart Technology and Critical Infrastructure sectors.
Industry and Government are seeking the next generation of trained cyber professionals with the smart cyber skills to address emerging and future cyber security challenges. Industry forecasts predict demand for skilled Smart Cyber professionals will easily outweigh supply. In response, the SCCISP Campus provides industry professionals with the next generation of smart cyber skills to address these emerging cyber industry trends.
Why the growing demand for Smart Cyber Certified Professionals?
IoT Security Market to Grow at a CAGR of 12.40% in the Forecast Period (Read More)
Individuals who can work at the Smart City, Critical Infrastructure and Industry 4.0 level are in increasing demand and highly sort after. The shortage of such qualified professionals is reflected in rewarding career development opportunities, and the increased salaries offered for suitably qualified "Smart Cyber" professionals. Earning a SCCISP Certification proves you have the necessary skills to competently & securely design, implement and manage Internet of Things Smart Ecosystems.
(IOT) SECURITY MARKET - GROWTH & TRENDS REPORT (Read More)
How are your cyber skills keeping up with this developing and lucrative smart cyber sector?

What distinguishes the SCCISP Certification Program from other Cyber Training?
SCCISP Certification programs are considerably more than another set of cyber training courses where students learn the allocated material, pass the exam, and are awarded a certificate of completion. SCCISP certification provides "real world" deployment focused training designed to impart actual skills and essential process knowledge that can be implemented in real-world scenarios. Of course, there is the academic course content, however, the focus of the SCCISP certification is to provide candidates with the training to address the cyber challenges at hand and in real-time.
Image: SCCISP Foundation (Advanced) Course Modules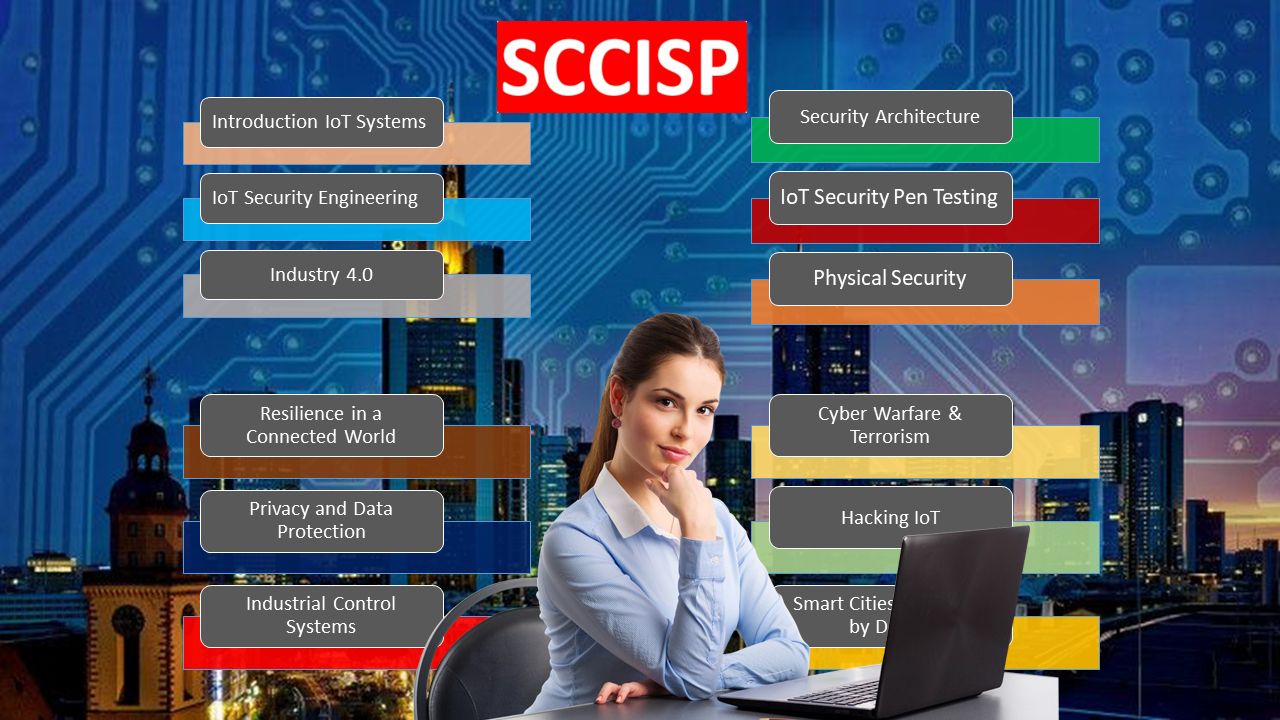 A Unique Partnership
The SCCISP Campus is able to achieve such outcomes due to its designation as a cyber educational services provider for the IoT Security Institute.
As a result, the SCCISP Foundation and Associate courses include the IoTSI Smart Cities and Critical Infrastructure Framework (released under a Creative Common License) which is currently implemented across the globe, as part of the SCCISP courseware material.
This alignment between SCCISP courseware training material and IoTSI industry research and smart cyber framework development is considered critical to a candidate's SCCISP training, assessment criteria, and understanding of smart cyber challenges, and risk mitigation strategies within actual deployment scenarios. Moreover, it provides a methodology based training approach based on cyber industry-recognized documentation, with supporting processes and procedures.
Image: SCCISP Associate (Entry) Course Modules
More about the IoTSI
(Cyber Security Think Tank & Publisher of the IoTSI Security Framework)
The following links published by leading Industry sources illustrates the role played by the IoTSI within the cyber industry, its core objectives, and its collaborative alliance with the SCCISP Campus in developing cyber security certification courses.
Industry Publications:
The IoTSI has released an IoT Security Framework for Smart Cities and Critical Infrastructure Source: IIoT World
IoTSI announced that it has released the SCCISP Foundation Certification Source: Smart City Journal
The Potential and Perils of the IoT in Healthcare Source: Security Intelligence
Cyber Security Frameworks and Standards: A Synergistic Collaboration Source: Energy Central
AISA and IoTSI forge alliance Source: AISA
Self- Study 100% Online or with an SCCISP Authorized Training Partner
STUDY AT YOUR OWN PACE
ALL courseware materials, assessments, tests, and assignments are available online. No additional costs.
HOW to ENROL in a SCCISP COURSE
Sign Up on SCCISP Campus (You will receive an email confirming your registration )
Once your account has been approved you will receive a confirmation email. (second email - account approved)
You are now able to login and enrol in your preferred SCCISP course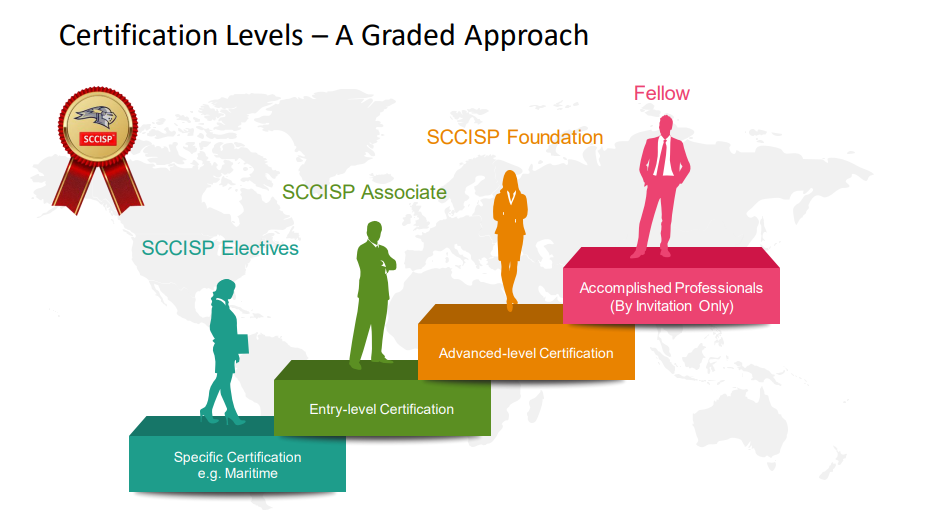 The SCCISP is offered at a graded level to best accommodate an individual's level of knowledge and experience within the cyber security industry. In addition, the SCCISP Campus offers elective courses that are specific to a particular sector or technology discipline. For example, SCCISP Maritime and SCCISP 5G certifications.
SCCISP Authorized Training Partnerships
The ability to provide SCCISP Certification training is acknowledged as a valuable addition to a cyber security organization's services catalogue. SCCISP ATP agreements provide cyber security service providers with access to SCCISP training programs which can be offered to their clients as part of an overall engagement.
IoT Security Institute (IoTSI) and IRIS Sentinel establish partnership to boost data security awareness Source: eSMARTCITY.es
"IoT (internet of things) Technologies are providing the roots for a wide scale change in how we consume and perceive data. Nowadays they are everywhere, with flagship use cases as Smart Cities and Critical Infrastructures. Together with the IoT Security Institute, IRIS Sentinel has developed training courses that cover these important areas. Leveraging the years of experience in IoT from both sources, IRIS Sentinel is gladly becoming an ATP center to impart the IoTSI smart cybersecurity accreditation, the SCCISP certification, first of its kind" said Enrique Villa Crespo, IRIS Sentinel CEO and Wellness TechGroup CTO.



The World is Changing
It's Getting Smarter
Smarter Cities, Smarter Buildings, Smarter People and Smarter Cyber Criminals
The rise in smart building cyber-attacks has boosted the global IT/OT security market. According to a recent report by market research company Frost & Sullivan, more and more smart buildings are adopting information technology (IT)/operational technology (OT) security services. Driving this growth is the growing number of cyber-attacks around the globe as increased digitization in building operations has provided hackers with an opening.
Report Shows Increase in Smart Building Cyber Attacks (Read More)
Get SCCISP Certified Today!
Contact Us